Out of sight – Out of mind. – PUMP SPLINES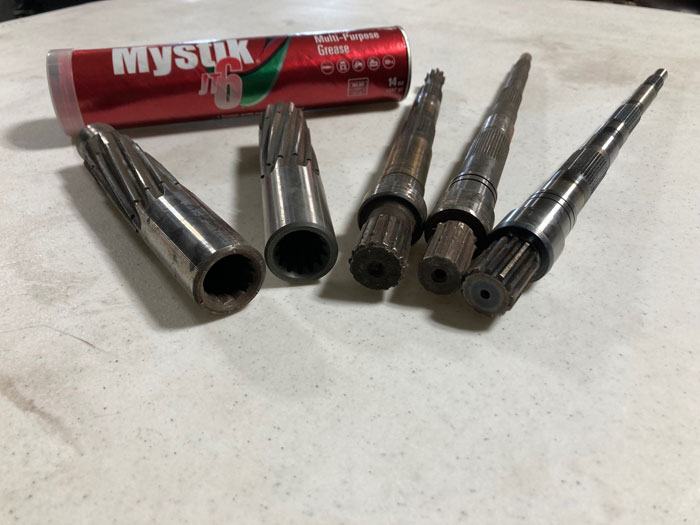 One of the most important (and most often neglected) components of crane operation is the connection between the power take off (PTO) and the hydraulic pump. Whether you are swinging trusses with your National Crane 8100D, 23 ton capacity, or lifting a co-worker in a basket on the end of your NBT45-2, be aware - the entire crane operation is dependent on a 7/8" – 1 1/4" thick, 18 inch long piece of machined steel with 1/4 inch splines - humming along under the truck while engaged with your transmission.
If the humming stops, so does your crane.
Pumps today require 200-450 horsepower to run your machine and this conversion of power to crane operation is accomplished through that 7/8" - 1 1/4 inch diameter "splined shaft". This connection is often NOT lubricated by the PTO or the pump at their connection area. This connection must be manually lubricated and that requires hi-temp grease (as hydraulic systems can run 100 degrees over air temperature – a point sure to melt out standard chassis grease). Some PTO's have a grease-able shaft, but most of the time, there is no zerk or other fitting to get to this connection and that requires partial removal of the pump in order to get the lubricant to the point of contact.
Chassis that have an automatic transmission typically have a wet pump. Conversely, a dry pump is found on manual transmission chassis. If the unit has a dry pump and the PTO has a grease zerk, an operator can use high-temperature, multipurpose grease such as Mystic JT-6 a few times a month depending the usage of the equipment.
Proper inspection and servicing of the splines on that shaft will greatly reduce the possibility of spline failure which will result in a complete loss of crane / outrigger operation - and certainly at the worst possible time. The splines are subject to wear under the extreme pressures and temps in which they work and at some point, with enough wear, the splines cannot mesh, or may distort or thin to the point of snapping off. If the splines happen to give while your crane is opened up, you will not be closing it without help from a crane service company as most towing companies are not experienced or equipped to handle crane recovery.
In fact, most manufacturers recommend inspecting & servicing the splines twice yearly.
Runnion Equipment provides this service and we recommend it to our customers when they come in for their annual crane inspection. Our experience has taught us and we highly recommend shaft replacement at 80% + wear on those splines.
If you don't know or can't remember the last time your splines were checked - get the maintenance scheduled - for safety sake and to head off a sizeable repair bill. Crane repair, after-the-fact, is costly.