How To Rent A Bucket Truck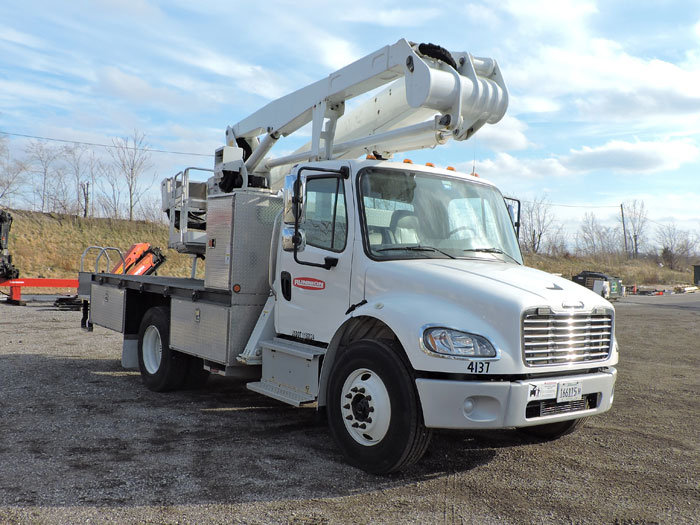 Bucket trucks and bucket vans allow homeowners and property managers the ability to handle routine maintenance on their properties in cases where ladders or scaffolding are impractical. Many first-time renters of our equipment are surprised to find how easy it is to operate the equipment and to get their projects completed quickly and affordably with a bucket truck or bucket van.
For the person considering bucket truck rental for the first time, here are the answers to some frequently asked questions:
Figure out the size of the bucket you need. A single man bucket usually holds three hundred to three hundred fifty pounds. A two-man bucket can hold up to seven hundred and fifty pounds.
Determine out how high you need the bucket to reach and consider space restrictions in regard to the truck itself – pay close regard to power lines in the area. Discuss your application with the rental company and ask for their recommendations. Bucket boom lengths and working height vary from model to model.
Determine how much you intend to spend on the bucket truck rental. You will generally get a better rate the longer the rental period.
Consider the type of truck you will need since it will depend on your working conditions and personal preferences – fuel type and even the make of the truck and bucket boom. You may also have a preference on whether or not the boom runs with a hydraulic or an electric system.
Find out if the rental unit you need requires a CDL licensed driver. A standard class C license will be good for most bucket trucks less than 26,000 pounds. If the vehicle weighs more, a commercial driver license will be required.
Find out about the tool storage and power options. Depending on the project, you may need a larger or specialized space to hold the tools and equipment you need. Do you have electrical tools that require a plug at the base of the boom or in the bucket?
Ask about insurance requirements. You will need to provide proof of insurance coverage. Auto Liability, General Liability and Property coverage for the value of the unit may be required and the limits may be sizeable. Bucket trucks are expensive and complicated machines and are costly to repair.
Discuss service and repair options with the boom truck rental company. If something goes wrong with the rental unit, you want to find out who is responsible for the cost of repairs. Be aware that long term rentals may require you to provide maintenance to the unit. Also find out if the company can replace the unit if you have a problem with it.
Review the safe-operation requirements with the rental company and be sure that you are supplied with safety harnesses and lanyards and that you understand the use and application of these necessary safety devices. There may be an extra cost for these items.
READ THE RENTAL CONTRACT BEFORE YOU SIGN IT! Make sure you understand your responsibilities before you drive your bucket truck or bucket van out of the rental company's yard!
Contact us to address any further questions and to set up your bucket truck rental!